Finding you the finest dog friendly holiday cottages in UK
|
Login
Hotels
Staying in a hotel is a real treat as you have no responsibilities whatsoever and can really enjoy your time away. There's nothing quite like being able to just walk upstairs to bed after a fantastic dinner and not have to think about the washing up ready to greet you in the morning. We can't think of a better way to relax than by staying in a luxury hotel which allows both you and your dog to enjoy and explore the countryside whilst working up an appetite for your next gastro feast.
We understand that just because you have your dog with you doesn't mean that you want to compromise on the quality of your accommodation and the service that you receive during your stay which is why we focus on bring you the best luxury pet friendly hotels.
By staying in one of our hotels you can have the best of both worlds by being pampered while you are away and having your entire family with you.
All of our hotels are pet friendly and can cater for you and your pets every need. Using our advanced search you can make sure that you find the perfect pet friendly hotel for you and your pet.
We are currently listing Hotels in all parts of the country so please check back regularly so as not to miss out on some fabulous places to stay. There are a huge range of hotels in the uk, ranging from small secluded country retreats to larger facility packed complexes. We prefer to list the former but where appropriate and if we believe it will be a suitable place to stay for a dog owner will include them in our listings. After all, sometimes it is great to be able have splash in a pool or relax in a sauna after a day out and about exploring the local area.
When staying in a hotel, food is often included whilst you may not be able to take your dog into the dining room, we will always try to find out what facilities are available for your dog. Many hotels will provide water bowls and areas to walk your dog in the grounds.
As always we are keen to hear your reviews on any of the hotels we have listed to ensure they are providing the type of service you expect and that our listings are accurate. It also great to hear news of a great experience you have had so please contact us and leave any feedback you feel appropriate. Also don't forget to check out our Facebook and Twitter pages to stay up to date whenever we list a new hotel or guest house.
by Lucy Purves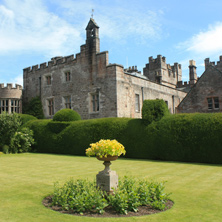 VIEW DOG FRIENDLY Hotels